Vail Board of Realtors® Foundation
Giving back to the community
The Vail Board of Realtors® Foundation (VBRF) was established in 1996 to help promote community efforts for the Vail Board of Realtors®. Today its mission is: To support the community, non-profit organizations and VBR members with need-based financial assistance, education and disaster relief.
Ways to receive support from VBRF
The VBR Foundation's Giving Policy supports our community and association members, provides nonprofit and disaster relief.
You can find information below on the Vail Board of Realtors® Foundation (VBRF), Giving Policy and Donation Request Forms.
VBRF Giving Policy
An overview of VBRF's Giving Policy and Mission Statement.
VBRF Individual Request for Support Application
VBR members and members of the community needing financial assistance due to a catastrophic illness or accident, for use towards expenses related to medical issues or disaster relief.
VBRF Catastrophic Disaster Request Application
Specifically for grants for organizations assisting in catastrophic disasters on a local, state, and national level.
VBRF Nonprofit Grant Request (Open for 2022!)
The VBRF has an annual grant process for nonprofits. Grant applications are being accepted until February 25, 2022. Criteria can be found in the application.
Click here for pdf version.
Click here for the Google Form (online) version.
The Vail Board of REALTORS® Foundation is a prominent charitable organization in the Vail Valley, known for supporting the community and its members in times of greatest opportunity and greatest need.

Focus & Impact
Develop a high profile for the Foundation and for REALTORS® as contributors to the vitality of the community. 

To be sought after as a partner in supporting disaster relief, education and the advancement of housing in Vail Valley.

Donor Development & Relations
3. Attract donors beyond the VBR membership who align with the focus and values of the Foundation. 
4. Develop a broad-based donor development strategy that includes consistent efforts to recognize donors and share information on the activities and impact of the Foundation.

Fundraising
5. Implement a mix of fundraising strategies and events that will connect with different donor segments and generate significant growth in Foundation funds.

Foundation Governance
6. Operate an efficient, financially healthy organization with a structure that provides meaningful, convenient opportunities for members to contribute. 
7. Build a deep, qualified pool of volunteers and future leaders who can advance the mission, goals and priorities of the Foundation.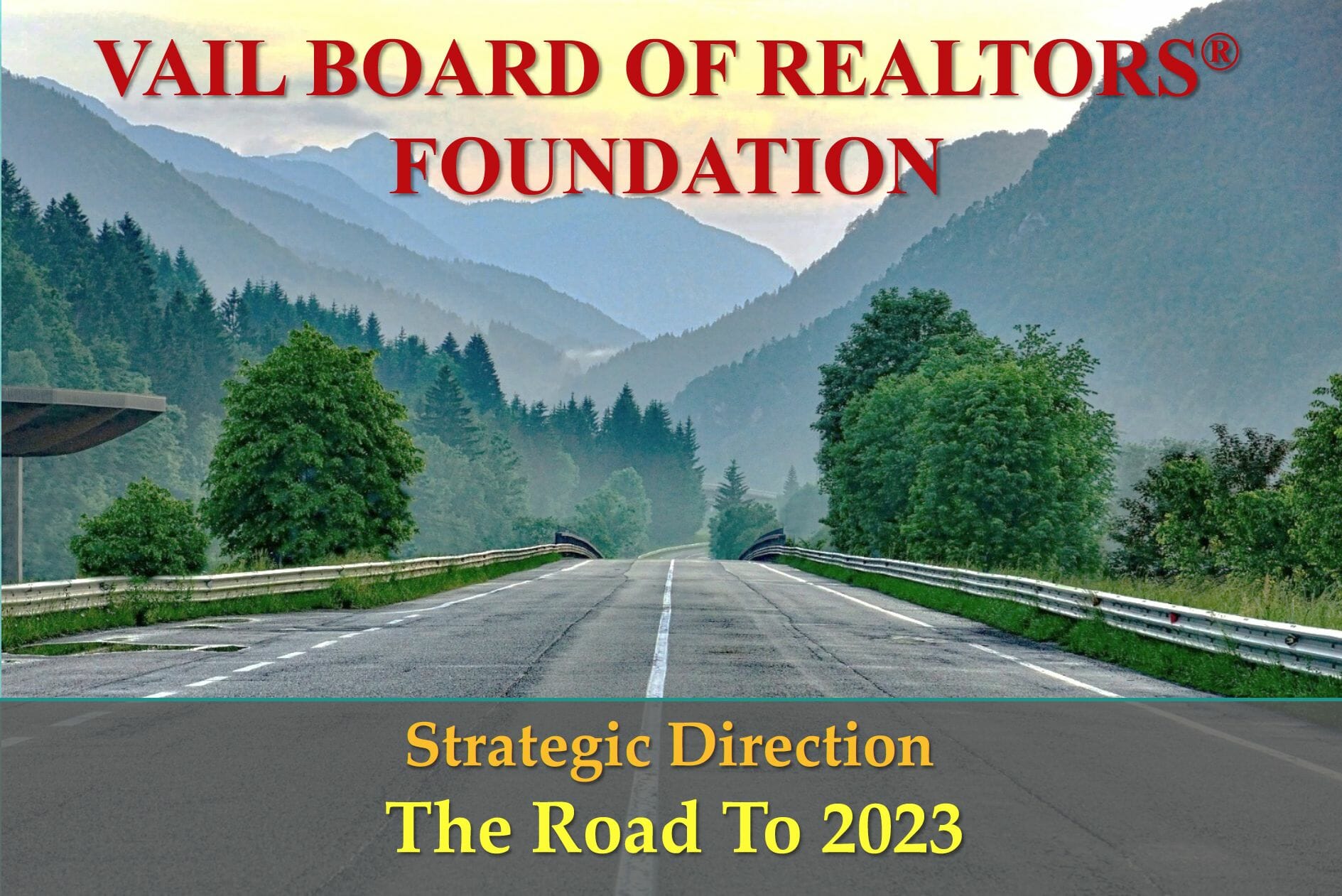 OUR MISSION:
To support the community, non-profit organizations and VBR members with need-based financial assistance, education and disaster relief.
2021 Academic Scholarship
The Vail Board of REALTORS® Foundation (VBRF) Academic Scholarship is awarded to qualifying students to attend a college, university, or accredited educational institution of higher learning. Qualifications are based on academic merit, volunteer and philanthropic involvement, and residency in Eagle County.
The scholarship application deadline is closed for 2021 and will reopen in May 2022.
Congratulations to the following honorees selected for 2021!
Ari Dennis - Cal Poly
Berkeley Kelly- Purdue University
Brooklyn Vargas- Colorado School of Mines
Carter Josef- Cal Poly
Claire Krueger- University of Notre Dame
Cody Bahan- CU Boulder
Davis Krueger- CU Boulder
Diana Trifonova- CU Boulder
Ella Dunn- Northeastern University
Ellie Nelson- Colorado State University
Emma Borel- Colorado Mtn College - Steamboat
Ethan Pyke- CU Boulder
Gabriela Fuentes- Colorado State University
Hailey Harsch- San Diego State University
Harry Jaffe- CU Boulder
Karsen Williams- Elon University
Luke Tanner Larson- CU Boulder
Olivia Pyke- Colorado State University
Samantha Nothnagel- SUNY Cortland
VBR Foundation provided a total of $32,000 in 2021 to dedicated and striving students. Recipients were awarded amounts up to $2,000. The number of scholarships and award amounts were based upon the VBRF budget and determined anonymously by the qualifications. Thank you to the Scholarship Committee for your time and efforts.
Click here to see past scholarship recipients.
Colorado Gives Day
Vail Board of Realtors® Foundation is a recipient of Colorado Gives Day - an annual statewide movement to celebrate and increase philanthropy through online giving.
In 2021, Colorado Gives Day is on Tuesday, December 7.  Gifts scheduled for this date will count toward earning us a part of the $1.6 million Colorado Gives Day Incentive Fund!
You can support VBR Foundation year-round through this online giving website.
Amazon Smile
Amazon donates 0.5% of the price of your eligible AmazonSmile purchases to the charitable organization of your choice. You shop. Amazon gives.
Click here or the image below to access Amazon Smile.
Enter your Amazon.com log in and password.
Select Vail Board of Realtors® Foundation as your charity to support in Amazon Smile.
Shop away to support the cause!