The Vail Board of Realtors® and Vail Multi-list Service provide essential services to over 700 Realtor® Members throughout the Vail Valley. Our strength comes from our Membership as a whole and is expressed through active volunteers who are the leadership and future of the Association.
At this time of year, we look to Realtor® Members for new leadership to guide us into the future. We have openings on VBR & VMLS Boards of Directors, as well as on committees and task forces for those who are newer to volunteer leadership. Please, consider joining the Realtor® leadership ranks.
What does a Board Member do?
Through Strategic Planning and meetings, Board Members act to guide, direct and monitor actions of committees and Board staff to create and maintain valuable services. Board Members assure the Board's finances are sound via effective financial management in annual budgeting and monitored through monthly updates. Directors maintain awareness of all internal and external forces that may affect members, communicating and acting on those matters through the Board of Directors.
Listed below are the essential requirements for service as a VBR or VMLS Director:
• Commit to a two-year term of service on the Board of Directors and maintain Realtor® Membership
• Attend and participate in Board Strategic Planning and/or Leadership Training when scheduled
• Attend Monthly (bimonthly) Board meetings, General Membership meetings, and other events of the Board. Sometimes address the membership in these venues as needed within your position's duties
• Prepare for all Board meetings by familiarizing themselves with the information provided in the monthly agenda and attachments prior to the meeting date (provided exclusively via email);
• Should have experience serving on either a committee or the Board of Directors of a Realtor® Association or MLS Service within the past five years, but is not required;
• All Directors are encouraged to serve on at least one committee in conjunction with service as a Director.
If you are interested, please submit the attached completed form by Friday, July 30, 2021.
2021_BOD_Candidate_Form to download the application.
Click here to download the Organization Chart.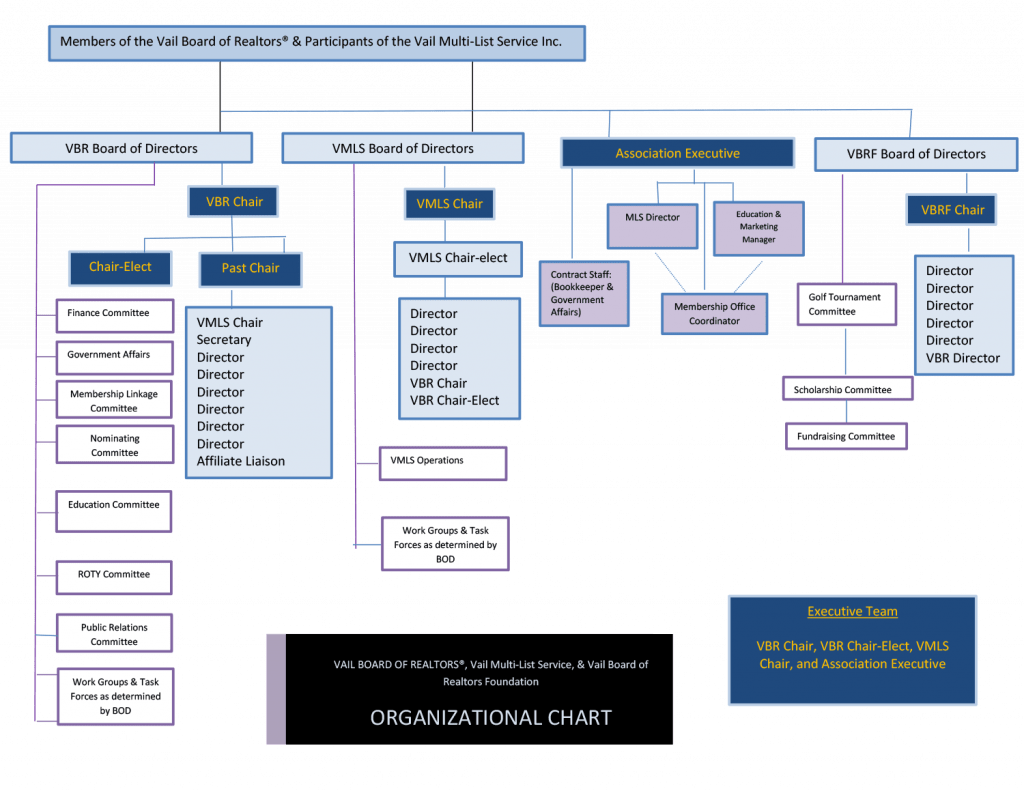 Our committees are made up of members who graciously volunteer their time to help strengthen the Association's events, services, member offerings, and strategic plan initiatives.
The Vail Board of Realtors® is always looking for new volunteers! Please take this opportunity to review where you might enjoy serving.
Simply check off or prioritize the committees you are interested in (1 through 3, with 1 being the most preferred committee) and return to the VBR offices.
In most cases, the respective Committee Chairs select the committee volunteers. On some committees, open seats are
limited, and can only be joined when the leadership year turns over (December 1st –November 31st). However, most committees can be joined at any point during the year!
The frequency of committee meetings ranges from 3 – 10 meetings per year, depending. Meetings can range from meeting every other month (education, membership, etc), to a concentrated grouping of meetings leading up to a big project/event (golf tournament). Call or email staff for details on any specific committee.