Main Line: 970-766-1028
Visit our "Meet the VBR Team" section below to direct any specific questions.
Our office address: 0275 Main Street, G004 Edwards, CO 81632
The Vail Board of Realtors® office is conveniently located in the heart of Eagle County. The office is 15 minutes East of Gypsum and 15 minutes West of Vail Village. The best entrance of Riverwalk is the easternmost entrance off of Highway 6. Make a right and continue past Etown restaurant. Vail Board of Realtors® is located near the Eagle River on the corner of the building, bottom floor. Parking is free on-site but may be limited due to Riverwalk events or home-owner parking.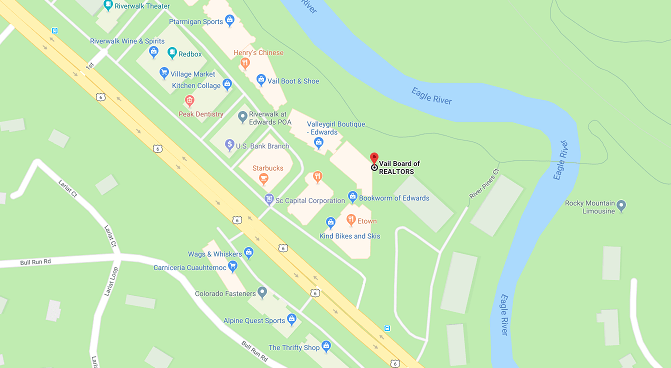 Meet the Vail Board of Realtors® Staff
Amy Reid, Association Executive

Phone: 970-766-1028
Email: areid@vbr.net
As the Association Executive, Amy is responsible to the Board of Directors and the membership for effectively leading and managing the Association in the achievement of its goals and objectives and in accordance with the by-laws and policy governance established by the Board of Directors. Amy manages the Association's staff, works closely with the volunteer leadership, and serves as staff liaison between committees and the Board of Directors.  Amy can answer your questions about membership in the association or MLS.
How Amy can assist you:
VBR, VMLS, and VBRF operations
Policies & procedures
Government affairs
REALFire Program
Strategic planning
Volunteer and leadership engagement
Code of Ethics/ Professional Standards
VBRF Donation Requests
Matthew Lang, Member Services & Office Manager
Phone: 970-766-1028
Email: matt@vbr.net
The Membership & Office Coordinator is the information hub of the Board office, and is typically the first point of contact for members call or come into to the board office. He helps keep members up-to-date with membership benefits, welcomes new members, makes account profile changes for existing members, and also provides billing assistance.
How the Member Services & Office Coordinator can assist you:
Membership applications
Membership changes
Office transfers
SentriLock account
Room rentals
Member billing & payments processing
Broadcast Email
Office management
Jessica Cliver, Vail MLS Manager
Phone: 970-766-1032
Email: jessica@vbr.net
As MLS Manager,  Jessica manages the daily operations and activities of the Multiple Listing Service and oversees related systems and services including the Sentrilock, the Broadcast Email, and RETS systems.
How Jessica can assist you:
FlexMLS support
Broadcast Email
Market statistics
RETS/IDX setup and support
MLS Rules & Regulations
MLS Policies & Procedures
MLS training
Sentrilock support
Membership support
Office transfers
Melanie McKinney, Education & Marketing Manager
Phone: 970-766-1031
Email: mel@vbr.net
As Education & Marketing Manager, Mel plans and hosts events and educational sessions, and manages marketing campaigns for the Vail Board of REALTORS® and Vail Board of REALTORS® Foundation. Mel provides Affiliate members with information on their benefits and sponsorship opportunities.
How Mel can assist you:
Education courses
Education requirements
Website/ Social Media for the Board
Events
Community Outreach/PR
Affiliate marketing benefits
Newsletter
Sentrilock
Business hours for the VBR are Monday through Friday, 8:30 a.m. to 5:00 p.m.
Holiday office closures:
New Year's Eve & New Year's Day
Martin Luther King, Jr Day
Presidents' Day
Memorial Day
Independence Day
Labor Day
Thanksgiving and Friday (day after)
Christmas Eve & Christmas Day