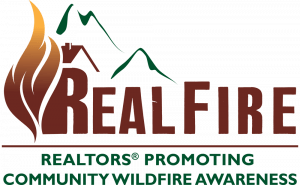 REALFire® is a voluntary property assessment program being piloted in Eagle County. The REALFire® program helps residents identify specific actions they can take on their property to reduce wildfire hazards. The program was inspired by Realtors® engaging with residents on wildfire safety and education.
REALFire® property assessments provide residents with many benefits:
An in-depth, on-site assessment conducted by experienced fire professionals
An opportunity for property owners to identify mitigation actions unique to their property
A detailed follow-up report with customized mitigation actions designed to measurably reduce the wildfire risk to their property
An opportunity to earn a REALFire® certificate acknowledging their mitigation achievements. This type of recognition can be used to enhance real estate transactions and can be shared with local insurance providers
Please visit realfire.net, to complete an application to receive a free wildfire property assessment.
"I knew I had to have our home and property in Cordillera inspected for our safety after attending the REALFire Class at the Vail Board of REALTORS® office.
My hesitation about having the Wildfire Mitigation Assessment was I didn't want to hear we needed to cut down all the trees within 30 feet of our home. To my surprise, we weren't told we needed to cut down any trees.
The Eagle County Assessor, Eric Lovgren, made a list of several fairly easy things to do to reduce our wildfire risk. We needed to enclose our outside storage area to prevent ignition of combustible material inside by embers, and install metal flashing on our deck at the junction to prevent ember accumulations from igniting the siding. Then there were a few smaller things like removing all the wood mulch, leaf litter, and all juniper from around our deck.
We had replaced our wood shake roof in 2018 with DaVinci roofing, which was the best mitigation step we could have taken. The wood shake roofs create a huge risk to our homes and our neighbor's homes. Lastly, we needed to have an evacuation plan and review the escape routes in Cordillera.
I am thrilled that we took the time to have the assessment done on our home. I pray that all our neighbors and other Cordillera residents will take wildfire mitigation seriously, so we can all work towards making our homes and subdivisions a safer place to live."
- Cynthia, Homeowner & REALTOR®
Wildfire Educational Guides
The REALFire® program provides educational materials created for home buyers, home sellers, and REALTORS®.
Wildfire Reference Guide is an eight-page guide to help REALTORS enhance the marketing and transaction process by educating buyers and sellers about local wildfire hazards.
Home Ignition Zone is a one-page overview of a well-prepared home ignition zone, including construction and landscaping tips.
While no plant is considered completely "fireproof", plant species, spacing, and maintenance can have a positive impact on your defensible space. Learn how to create a wildfire defensible space through your landscaping.
Eagle County follows Wildland Urban Interface Building code requirements as well as wildfire mitigation practices. This guide is for builders, architects, and homeowners who are required or who wish to utilize construction techniques that are proven to decrease the likelihood of ignition during a wildland fire event.
Community Wildfire Planning Center
The Community Wildfire Planning Center is a 501(c)3 non-profit dedicated to helping communities prepare for, adapt to, and recover from wildfires. CWPC was formed in 2017 and works with communities across the United States and elsewhere.
View the CWPC Board of Directors
We believe in empowering people through wildfire education and action. We support local governments, fire departments, land managers, and residents to create safe and vibrant places. We inspire change by facilitating positive outcomes. Let us explore ways to share our fire, planning, forestry, and program development expertise with you.
Visit the CWPC website for more information regarding wildfire education and tools.
CWPC administers the REALFire Program to ensure a long-term approach to its success. To date, the program has assessed hundreds of housing units and provides a certificate of recognition to property owners who accomplish all mitigation actions. The program builds on the Wildfire Partners program established in Boulder County, CO.
Register for Emergency Alerts
ECAlert is Eagle County's emergency alert system, enabling emergency management agencies and first responders to quickly and efficiently provide Eagle County residents and visitors with critical information for a variety of situations, from updates on severe weather and unexpected road closures to notifications about missing persons or evacuations of buildings and neighborhoods.