Wildfire Preparedness for Property Owners
Taking small mitigation measures now can make a big difference later.
Any time is a good time to be prepared for wildfire. Colorado's wildfire season traditionally has been the summer months. However, the definition of "wildfire season" is changing.  Wildfire seasons are growing longer, with fire alerts often issued even as snow still falls. The norm has been enduring drought conditions and changes in monsoon patterns.
Eagle County was fairly fortunate in 2022 due to decent rainfall. However, an early-season wildfire, the Duck Pond Fire, started in Gypsum in April 2022. The fire burned approximately 100 acres and came within feet of private homes.
"Now is the time for action," according to Eric Lovgren, Eagle County Community Mitigation Manager.  "The term is quickly becoming 'wildfire year,' not just a wildfire season. It's never a bad time to get to work with mitigation."
Resources for Homeowners
Recognizing the need for wildfire education, awareness, and action, the Vail Board of REALTORS® (VBR) worked with Eagle County to create the REALFire® program. Through the program, homeowners can access their property's vulnerability to wildfires at no cost. REALFire® provides owners with an understanding of wildfire hazards and how to fortify the area around their homes by creating defensible space.
Property owners can find information and apply for the program at realfire.net. Once the application is processed, an experienced fire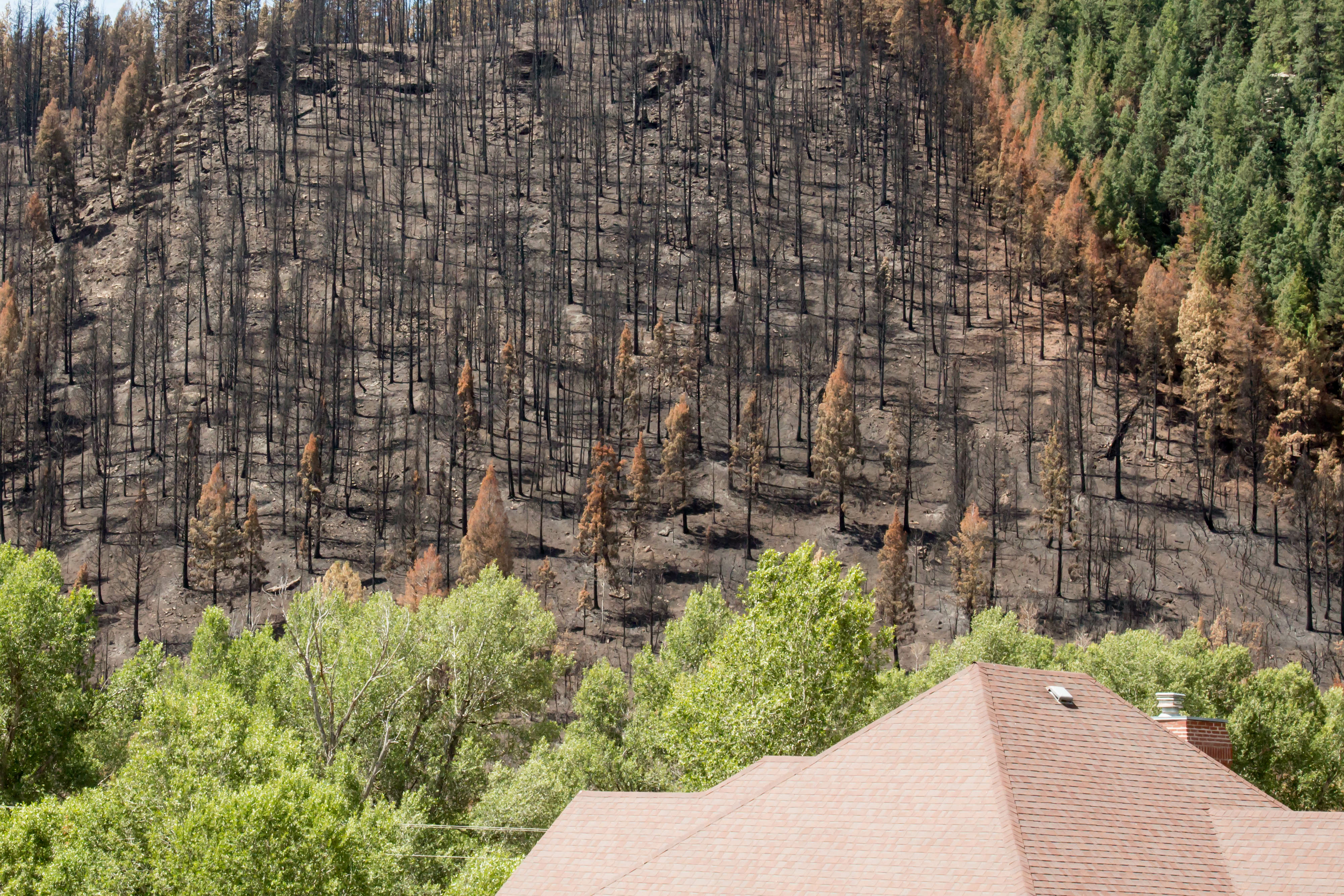 professional visits the property to perform an in-depth assessment for wildfire fuels. The professional looks at potential wildland fuels surrounding your home, like fallen trees or overgrown landscaping, as well as "built fuels" on your property, like fences, sheds, and the home itself. After the assessment, clients receive a detailed report with voluntary actions to measurably reduce wildfire danger.
"Small actions can be a big difference," emphasizes Lovgren. "Everywhere is vulnerable – even in valley bottoms where homeowners feel there is low risk. If you look at the 2021 Marshall Fire, you see that grass fires can be destructive. The potential for fire exists."
The 2018 Lake Christine Fire is an example of how programs like REALFire® can work. Homes that performed mitigation and created defensible space fared well. Hundreds of homes were defended in that fire, but only three were lost.
According to Lovgren, "Homeowners that mitigated their properties and new builds that went through the building permit process were both successful in the fire. One property was in the process of actively mitigating trees, and that alone helped it survive."
Wildfire Mitigation & Insurance
"Lowering your wildfire score reduces the potential of damage and can be an advantage for insurance," says Jon Morse, Vail Board of REALTORS® Affiliate Liaison. "It can be as simple as removing mulch in landscaping or replacing combustible plants like juniper. People are sometimes reluctant to do this – thinking they may change the property's aesthetics. The benefits outweigh any doubts they may have."
In addition to mitigation, it's always a good time to review your insurance policies, suggests Morse, a lead agent with Comparion Insurance Agency.
"Sometimes home buyers go with a policy to just get by for the closing process," says Morse. "But I suggest working with a reputable, premier company that is more likely to be nationally known and understands the nuances of coverage in a state like Colorado where we see fire, hail, and wind damage."
"I tell my clients, 'If this was my house, this is what I would do.' This is the coverage I would consider," adds Morse.
Morse also has a proactive suggestion for homeowners to inventory their homes – in case of a worst-case scenario, like wildfire damage. He advises going through each room and videoing everything – from electronics to clothing.
"When you're dealing with damage or a total home loss, it's obviously very traumatic," says Morse. "You don't want to be trying to recall what you've lost in a terrible situation. Also, if you must make an insurance claim, it makes it easier for the company to process your claim and cover your items."
Engaging & Encouraging Community
Wildfire Preparedness Month is marked each May, and the VBR engages its members by hosting an annual course. Both Morse and Lovgren are involved as presenters and content providers. The goal is to educate VBR members on the benefits of mitigation and the REALFire® Program, and for those members, in turn, to engage their clients and community.
A positive outcome is community members and Realtors® who have been spurred to educate local homeowner associations (HOAs) and neighbors.
Lovgren notes that assessment requests have increased 200 to 300 percent in the past few years, a direct effect of recent wildfires in the state. Additionally, the awareness efforts of fire districts and professionals have also increased. Eagle County has successfully partnered with the Greater Eagle Fire Protection District, Gypsum Fire Protection District, and the Eagle River Fire Protection District to form Eagle Valley Wildland. This partnership has been building the capacity to meet the demand for assessments. In addition to working with homeowners, local fire officials also work with HOAs by hosting brush clean-up and chipping days.
Property owners can affect change by taking personal responsibility for mitigation, Lovgren advises. Proactive homeowners who create defensible space can spare their own homes, possibly their neighbors' homes, and allow firefighters to focus on communities at large.
"We keep referring to unprecedented times," adds Lovgren. "Unfortunately, unprecedented times are becoming the norm with climate change, drought conditions, and the expansion of the Wildland-Urban Interface. The reality of the risk is that we are also testing the capacity of first responders."
VBR's efforts to increase awareness with REALFire® also include a page on the VBR website dedicated to wildfire awareness (vbr.net/free-wildfire-assessment) and distributing copies of a "Wildfire Reference Guide" to homeowners. The public is encouraged to contact a Realtor® or the VBR for a copy of the guide.
"The Vail Board of Realtors and our members are always willing to help educate the public," says Morse. "If we can make a few more people aware every year, then it's worth all the effort."
Visit realfire.net for more information on wildfire risk reduction and property assessments. Visit vbr.net to find a Realtor® knowledgeable of our mountain resort market.