Realtors® commit to equal access for homeownership
Every April, Realtors® commemorate the passage of the Fair Housing Act and recommit to advancing equitable opportunities and expanding homeownership.
Throughout the month, there is an emphasis on shining a light on housing discrimination and segregation.  Fair Housing Month signifies a recommitment to expanding equal access to housing because, according to the National Association of REALTORS® (NAR), real estate discrimination is genuine and ongoing.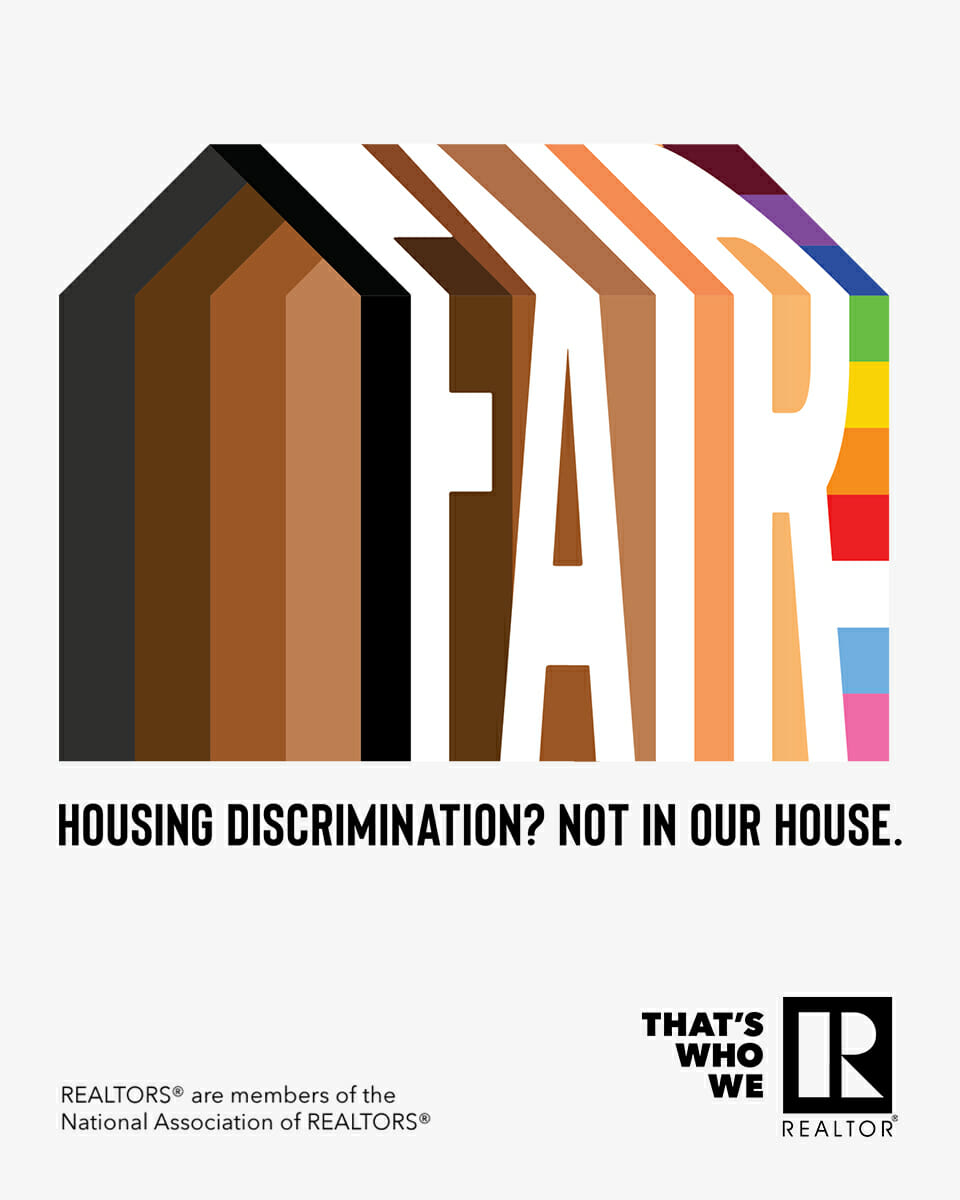 Passed in 1968, the Fair Housing Act protects homebuyers from discrimination as they get a mortgage, rent or buy a home, seek housing assistance, or participate in other housing-related activities.  No one should be discriminated against based on race, color, sex, national origin, religion, disability, or familial status.
A focus on DEI
Vail Board of REALTORS® (VBR) members work to implement fair housing best practices while focusing on Diversity, Equity and Inclusion (DEI) in our local resort real estate market.  DEI is a term used to describe policies and programs promoting the representation and participation of all people of different ages, races and ethnicities, abilities and disabilities, genders, religions, cultures, and sexual orientations.
Keeping DEI in focus is important because the local workforce is an essential segment of our resort population, providing quality guest services to our visitors.  Realtors® strive to ensure the basic need of housing is being met and continuously addressed with fair housing practices and thoughtful solutions to increasing home prices.
The VBR also is involved on a more significant level, with a board member serving on Diversity Committees for both NAR and the Colorado Association of REALTORS® (CAR).
Vail Board of REALTORS® Director Crissy Rumford brings a multi-faceted perspective to the real estate industry as a woman and registered member of the Native American tribe Citizen Potawatomi Nation (CPN.)
"Being of Native American ancestral descent, I have always been aware of DEI issues from the standpoint of race," says Rumford.  "But the basis of DEI is so much more than race.  It means inclusion for ALL."
"I wanted to bring my personal perspective to our industry and contribute to the efforts of our associations to embrace and improve DEI initiatives on the brokerage side, as well as be an active advocate for the diverse homebuying public that Realtors in the US represent."
Going a step further

As part of its efforts to oppose discrimination, NAR has a strict code of ethics that all Realtors® are expected to follow.  Realtors® who violate any fair housing law, including local and state laws, may face sanctions or expulsion.
Rumford points out that NAR goes a step further than the federal Fair Housing Act by including sexual orientation and gender identity as protected classes against housing discrimination.
Within Eagle County, the Vail Board of Realtors® pairs with the Eagle County Housing and Development Authority (ECHDA) to help our local workforce find attainable housing.  VBR has made significant donations to the Eagle County Loan Fund, a down payment assistance program that has benefitted approximately 700 families and individuals in our community.
The ECHDA's Bold Moves Housing Initiative addresses the challenges of our current housing predicament through its "Bold Moves" Housing Initiative.  Current Bold Moves initiatives include an emergency housing homeless response, rental assistance, down payment assistance that can be combined with loans, and the Good Deeds incentive program that encourages adding a deed restriction to an open market home in exchange for a cash purchase at closing.  More initiatives are in the works.
"Attainable housing, especially in our resort areas can be extremely challenging," says Rumford. "The workforce population is critical to the success of every community in the US and our responsibility as Realtors is to provide equal opportunities for ALL who wish to fulfill the dream of homeownership."
Beyond observing and promoting Fair Housing Month, the VBR provides continuing year-round education for its members on DEI, including a course titled "At Home With Diversity." Created by NAR, the class enables Realtors® to earn a certification. It was designed to enable Realtors® to work successfully in rapidly changing multicultural markets.
VBR members also are encouraged to visit Fairhaven, a fictional town based on the real experiences of citizens facing discrimination in the home buying process.  Fairhaven is online simulation training for Realtors® that uses the power of storytelling to help them identify, prevent, and address discriminatory practices in real estate.
Rumford is excited about the future of DEI efforts in the real estate industry.
"Nationally, we are working on objectives to increase awareness within the DEI space of our industry to strive to be the best Realtors we can be," adds Rumford.  "Providing educational opportunities to our membership on topics specific to diversity is a primary focus - including how to serve our diverse clientele better, advocating for Fair Housing, and identifying ways to encourage the next generation of Realtors within our communities."
"Locally, the Vail Board of Realtors is exploring options to engage our local population more inclusively and celebrate the diversity that makes our area so special."
Visit VBR.net to find a REALTOR® knowledgeable of our market and fair housing regulations.