Our office address: 0275 Main Street, G004 Edwards, CO 81632
The Vail Board of Realtors® office is conveniently located in the heart of Eagle County. The office is 15 minutes East of Gypsum and 15 minutes West of Vail Village. The best entrance of Riverwalk is the easternmost entrance off of Highway 6. Make a right and continue past Etown restaurant. Vail Board of Realtors® is located near the Eagle River on the corner of the building, bottom floor. Parking is free on-site but may be limited due to Riverwalk events or home-owner parking.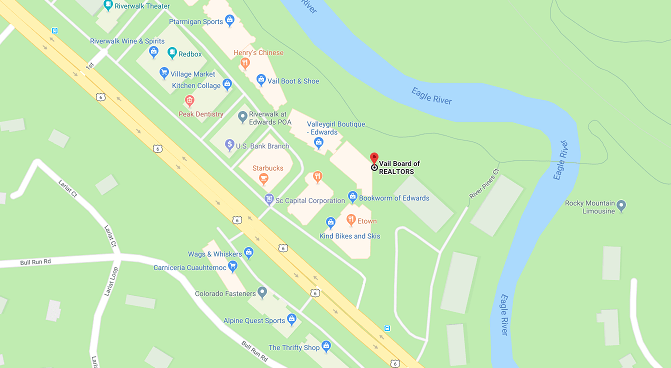 The VBR office is open Monday through Friday, 8:30 a.m. to 5:00 p.m.
Holiday office closures:
New Year's Eve & New Year's Day
Martin Luther King, Jr Day
Presidents' Day
Memorial Day
Independence Day
Labor Day
Thanksgiving and Friday (day after)
Christmas Eve & Christmas Day