Vail Multi-List Service - the most accurate data source for the local real estate market.
Across the nation, broker marketplaces known as Multiple Listing Services (MLS) connect buyers and sellers of real estate through their respective agents.  Locally this marketplace is the Vail Multi-List Service, or VMLS.
The VMLS provides real property information for most of Eagle County, including all the towns along the I-70 corridor from East Vail to Dotsero and into Northern Eagle County. Realtors® with the VMLS and the Vail Board of REALTORS® (VBR) use this database to list properties for sellers, help buyers find homes, and be well-informed on the local market.
In a world without the MLS, there wouldn't be a centralized, reliable source for available real estate.  Realtors® with the VBR strive to provide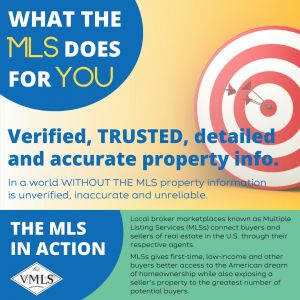 constant reliability with data.  Because not only do fellow brokers depend on this reliability, clients who are buyers and sellers do too.
"Our number one priority is the accuracy of data for listings," says Kyle Stoveken, chair of the Vail Multi-List Service. "The VMLS operates in real-time, meaning any pricing or property status changes must be updated as soon as possible.  Realtors have strict guidelines on timeliness and accuracy we must follow to comply."
Providing a Fair Market
Stoveken proudly points out that Realtors® are members of the most prominent advocate for homeowner rights - the National Association of REALTORS® (NAR).
The NAR works with MLSs around the country, like the VMLS, to ensure that guidelines allow for affordability and accessibility to better enable all Americans the opportunity to achieve the dream of home ownership.
"The MLS system creates a 'level playing field' in the real estate market," adds Stoveken. "And policies like NAR's Clear Cooperation were established to get the most exposure for sellers while it helps keep the market competitive and fair."
Stoveken refers to NAR's Clear Cooperation Policy (CCP), which encourages and fosters cooperation amongst brokers - the ultimate purpose of any MLS.  Realtors® must enter any properties listed for sale into the MLS within one business day of any public marketing.
The CCP is especially important in markets where properties sell extremely fast - something familiar in Eagle County.  It also helps protect against circumstances in which properties are marketed only to limited groups of people.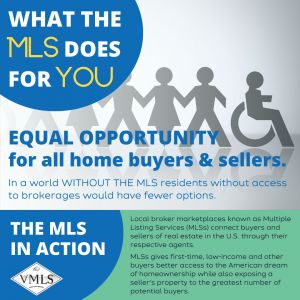 On a local level, the rules and regulations for VMLS usage are affected by Realtor® and appraiser members who regularly use the system.   A VMLS Operations committee makes suggestions that go before the VMLS Directors for final decisions.
"These members all volunteer their time to review policies and make changes," says Stoveken. "Any rule changes are designed to protect competition – including both members and clients - and reflect NAR regulations and market trends."
The VMLS connects to third-party sites, like Zillow.com and Realtor.com – an added benefit to sellers who have listed a property.  It's entertaining to search these third-party sites to see what's on the Vail-area market, but the most accurate data comes from the VMLS and Realtors®.
"A Realtor knows how to interpret the market data and can use it to benefit those clients," says Stoveken. "For example, we can give a seller the most accurate pricing analysis by looking at the market in their specific town or neighborhood.  For a buyer, we can help them access a larger pool of homes within their preferred budget or specifications."
The Tools to Succeed
In addition to marketplace access, the VMLS provides members with an array of tools that benefit buyers and sellers.  One such tool, FloPlan, allows Realtors® to create floor plans by scanning property layouts on a mobile phone.  Another tool called ShowingTime allows sellers to block off times that aren't convenient for showings, like having guests or renters on the property.
"This technology makes the process of buying and selling real estate more efficient," says Stoveken. "With ShowingTime, the broker doesn't have to call the homeowner to set up showings constantly.  It's all in the application.  Using FloPlan in conjunction with photos, the buyers have more transparency and see a better representation of the listing.  Sellers attract serious buyers by showing their property's layout."
The VBR prides itself on providing resources to help its licensed members position themselves as professionals that the community can rely on for real estate.  Resources include a mandatory orientation for new members and ongoing MLS training with recorded videos, live webinars, and in-person classes.
"Geographic competency is an expectation for Realtors," says Stoveken. "The Vail real estate market is distinctive from other markets in Colorado.  Our orientation addresses items specific to our area, like transfer taxes and homeowner associations.  The goal is to ensure new members can meet the needs of buyers and sellers in our market."
Education provided by the VBR helps ensure that property transactions are completed with professionalism, expertise, and integrity.  To help meet this end, the VBR created the Vail Pro Designation education track to increase local expertise.  Vail Pro classes cover a broad spectrum of topics like MLS regulations, wildfire mitigation, water law, area schools, and more.
According to Stoveken, in our dynamic real estate market, it's essential for Realtors® to continuously learn, evolve, and stay abreast of new trends and technologies.
"When working with a Realtor, sellers and buyers have access to a knowledgeable, competent professional who can best guide them through the local real estate market," adds Stoveken. "They also have access to our local VMLS through that Realtor, and access to the most accurate market data available."
Visit VBR.net to find a Realtor® who is an expert on the Eagle County real estate market.